Digital Photography
Opinions, Observations,
Articles, Insights, and Tutorials

Fuji's S1 Pro Digital SLR Camera
Top quality pictures with that rich "Fujifilm look".
---
It's easy to handle...

At left - The S1 Pro is significantly smaller, and around 25% lighter than the popular Nikon D1.

(Good news for those who dread the "lug factor" of most pro class digitals.)
And it's easy to use...
Built on the Nikon N60 35mm film camera body, the Fuji S1 Pro is strikingly simple to learn and operate. For those who have ever used an interchangeable lens 35mm or APS single lens reflex film camera, the learning curve will be short. The controls and menus are extremely intuitive and straightforward. After a short cruise through the manual (uncomplicated, well written, clear, and easy to understand), you'll feel at ease with the S1 Pro.
Selectable shooting modes include AUTO (automatic exposure determined by the camera), Programmed automatic exposure (with optional aperture and shutter combinations using the command dial), Shutter Priority, Aperture Priority, Manual Exposure, and five Vari-Programs (Portrait, Landscape, Close-up, Sport, & Night Scene, all indicated on the rotating mode selection dial by a relevant symbolic icon.)
| | |
| --- | --- |
| Other S1 Pro features shown at right include the main command dial, exposure compensation plus & minus controls, automatic exposure lock, self-timer, popup flash synchro option button, and a hot shoe for external Nikon compatible flash units. | |
Pictured at left is the built-in popup flash in the ready position, the manual focus / autofocus selector switch, and the flip-down AA battery compartment door.

Lens shown in this picture is Tamron's 28-105mm f2.8 zoom.
For those who are used to a full feature professional level camera like the Nikon D1, the Canon EOS digitals, or the Kodak Pro digital cameras, there will be some things you'll have to learn to live with -
The S1 Pro won't auto focus with one type of popular (and expensive) lenses - those that use electronic focus motors. (Examples: Nikon's AF-S lenses, Sigma's Hypersonic focus lenses). If you use these on the S1 Pro, you have to manually focus them. Regular AF lenses mechanically connect to the camera in the lens mount, but the S1 Pro doesn't have the electronic contacts or programming to work these electronic focusing lenses. *Note: You'll still get a focus conformation "dot" in the camera's viewfinder, so accurate manual focus is not a problem.
Continuous shooting (burst mode) is only available in the Vari-Program "Sports" mode. With the sports mode selected, the camera will take up to a 5 frame burst with the shutter button held down until pausing to write to the memory card.
Continuous AF servo focusing to track a moving object - only available in the "Sports" Vari-Program, and then it's the default (and only) auto focusing mode.
Metering - The camera is always in the matrix metering mode except when set to Manual Exposure, or when the AE lock is used. With either of these modes, the camera switches to center-weighted metering by default. (There are no options to manually select metering modes.)
Want to use a Nikon SB-28 or other external flash with automatic power zoom? The Nikon N60 body doesn't interface with the zoom electronics like the more expensive camera bodies do. So you'll have to manually set the flash head zoom to match your lens focal length.
But the positives far outweigh the shortcomings -
Look at what you do get!

An affordable, easy to use full-sized single lens reflex digital camera that uses interchangeable Nikon F-Mount compatible lenses. For probably 90% + of day to day shooting situations, the features and options on the S1 Pro are all you really need.
Serious thought... In spite of the lack of bells & whistles, in spite of the (some consider) too-simple features and options, the most important thing of all is "how do the pictures come out?"
In that category, it looks like the S1 Pro might be the best player of all.
---
Sample Pictures -
All original pictures taken with the camera set at "2304" image size, jpeg fine quality, color / tone / sharpening @ standard (default).
Click on any preview below for an enlarged view.
Image and file sizes are shown below the preview pictures.

ISO 320
Lens: Nikkor 28-200mm f3.5-5.6 Zoom
1200 x 800 pixels, 483 KB


ISO 320, Flash
Lens: Nikkor 28-200mm f3.5-5.6 Zoom
1200 x 800 pixels, 282 KB


ISO 320, Fill Flash w/ Popup Flash
Lens: Tamron 28-300mm f3.8-5.6 Zoom
1200 x 1800 pixels, 833 KB


ISO 320
Lens: Tamron 28-105mm f2.8 Zoom
1200 x 1800 pixels, 782 KB


ISO 320, Fill Flash w/ Popup Flash
Lens: Nikkor 35-70mm f2.8 Zoom
1200 x 1800 pixels, 947 KB


ISO 320, Fill Flash (SB-28 speedlight)
Lens: Nikkor 35-70mm f2.8 Zoom
1200 x 1800 pixels, 449 KB


ISO 800, Black & White
Available Light, AE Lock on face
Lens: Nikkor 35-70mm f2.8 Zoom
1200 x 1800 pixels, 610 KB


ISO 320, Aperture Priority @ f5.6
1 second automatic exposure
Lens: Nikkor 35-70mm f2.8 Zoom
1200 x 1500 pixels, 619 KB
High ISO pictures with the Fuji S1 Pro -

Above - ISO 1600 available light snapshot taken inside Competitive Cameras, Ltd. (Dallas)
Lens: Sigma EX 17-35mm f2.8-4 Ultra Wide Angle Zoom
The general rule of thumb for all photography is to use the lowest ISO (capture sensitivity) setting possible for an acceptable aperture & shutter speed combination. This will result in the cleanest, clearest, richest looking pictures possible from your camera.
But there are times when high ISO settings are a must...
In low lighting conditions with a low ISO setting, the camera's aperture will open up and the shutter speed will slow down in order to gather in enough light to make a properly exposed picture. The biggest potential problem here is that the longer shutter times tend to create blurred pictures because of subject movement or camera shake.
To overcome this, you can use higher ISO settings to automatically create faster shutter speeds at any given aperture. (Faster shutter speeds eliminate blurred pictures caused by subject movement or camera shake.)
Example: (Given a constant aperture) A 1/30th shutter speed doubles to 1/60th if you raise the ISO from 400 to 800. And at ISO 1600 the shutter speed will double again to a snappy 1/125th of a second.
High ISO settings (800 or above) on most digital cameras produce markedly increased grainy or noisy appearances to their pictures, sometimes to the point of being nearly unusable.
Not so with the S1 Pro!
Perhaps the most impressive thing I've found with the S1 Pro is the picture quality of its high ISO output. From its base of ISO 320 all the way to ISO 1600, the S1 Pro produces excellent quality images. Sure, the quality declines somewhat as the ISO increases, but not to any great extent. Because of this, available light (no flash) photography becomes an exciting, greatly expanded avenue to explore.
In any given shooting situation, I evaluate the aperture I'd like to use (because of depth of field issues), look at the shutter speed in the camera's viewfinder, and roll up (or down) the ISO until I get the shutter speed I've calculated as ideal for a blur-free shot. And if I can't get enough shutter speed at ISO 1600, I'll roll down the aperture a notch at a time until I get it.
More ISO 1600 sample pictures -
Click on either preview below for an enlarged view.
Image and file sizes are shown below the preview pictures.

ISO 1600
Lens: Nikkor 35-70mm f2.8 Zoom
1200 x 1800 pixels, 957 KB


ISO 1600
Lens: Nikkor 80-200mm f2.8 Zoom
1200 x 1800 pixels, 953 KB
---
Reviews / Reports:
Link to Steve's Digicams Fuji S1 Pro review.
Link to Phil Askey's Fuji S1 Pro review.
Link to the Imaging-Resource Fuji S1 Pro review.
Link to Mike Chaney's review of the Fuji S1 Pro vs the Nikon D1 - "One on One".
Link to Uwe Steinmueller's Digital Outback Photo Fuji S1 Pro Review
Click here for the "Rod Ashford On-Line" hands-on review of the Fuji S1 Pro
Fujifilm Corporate Site:
Link to the Fuji (Japan) S1 Pro Home Page
---
General Information -
(The following information is from Fuji's original press release)
The first of a new breed of professional digital cameras from Fujifilm, the FinePix S1 Pro has a 1.1 inch Super CCD sensor that delivers an ultra-high resolution image file with 6.1 million pixels (3040 x 2016). It uses a Nikon F lens mount and has continuous shooting of approximately 1.5 frames/second up to five frames, adjustable ISO equivalents of 320/400/800/1600, a shutter speed of 30 to 1/2000 second and compatibility with SmartMedia™ (up to 64MB), CompactFlash™ (Card Type II) and the IBM microdrive™.
The unprecedented image resolution of the FinePix S1 Pro is the result of Fujifilm's proprietary Super CCD technology. Recognizing a glass ceiling in the conventional charge-coupled device (CCD) design, Fujifilm developed a new, radically different CCD with larger, octagonal-shaped photodiodes situated on 45-degree angles. This pattern increases sensitivity, improves signal-to-noise ratio and offers a much wider dynamic range, all attributes that result in sharper, more colorful digital images.
"Like other professional SLR-type digital cameras, the FinePix S1 Pro has a host of image capture features and controls," said Tom Cuffari, Vice President, Sales, Digital Imaging Division, Fuji Photo Film U.S.A., Inc. "But the one thing that makes the FinePix S1 Pro stand out among the rest is its printable image quality which, if you ask any photographer, is the most important aspect of the camera."
As mentioned, the FinePix S1 Pro has a variety of controls, including four shooting modes (single frame, continuous, preview and multiple exposure), five exposure modes (general-purpose program, auto-multi program, shutter-priority auto mode, aperture-priority auto mode and manual exposure control) and five variable program modes (portrait, landscape, close-up, sport and night scene). In addition, there are eight modes for white balance (auto, fine, shade, incandescent light, custom and three for fluorescent light.)
The FinePix S1 Pro can record images at three resolutions (3040 x 2016, 2304 x 1536 and 1440 x 960) and in three file formats (TIFF-RBG, TIFF-YC and JPEG). There are three compression modes (fine, normal and basic) within the JPEG file format and captured images can be viewed on the camera's 2-inch liquid crystal display.
The USB-compatible FinePix S1 Pro has dimensions of 5.8" (W) x 4.9" (H) x 3.1" (D) and weighs 29 ounces. Packaged along with the camera are a CD-ROM with camera-shooting software, USB and video cables, a 16MB SmartMedia storage card and four AA alkaline batteries for the image-handling system and two Lithium batteries for controlling the camera system.
---
Suggested retail price - around $4,000.
Fujifilm FinePix S1 Pro - Specifications:
SLR-type digital camera.
CCD sensor: 23.3mm x 15.6mm Super CCD.
Image File Size: 3040 x 2016, 2304 x 1536, 1440 x 960 pixels.
ISO Equivalent: 320/400/800/1600.
File format: TIFF-RGB, TIFF-YC, JPEG (supports Exif version 2.1).
Storage Media:
Slot No.1 - SmartMedia Cards(2MB to 64MB 3.3v).
Slot No.2 - Compact Flash Card type I or II.
Lens mount: Nikon F mount for AF Nikkor and AI-P-type Nikkor lenses.
Picture angle: Approximately 1.5x focal length (35mm format equivalent).
View finder: Fixed-eye level penta-prism high-eye-point type. Frame coverage: Approx. 90%.
Shooting modes: Single frame shooting or continuous shooting @ Approx. 1.5 frames/sec.(up to 5 frames).
Preview mode.
Multiple exposure.
Exposure Modes:
General Purpose Program.
Auto-Multi Program (Flexible Program possible).
Shutter-priority Auto mode.
Aperture-priority Auto mode.
Manual Exposure Control mode.
5 Variable-program mode (portrait, landscape, close-up, sport, night scene).
Exposure metering:
3D Matrix: with D-type AF Nikkor.
6 segment Matrix: with non-D-type AF Nikkor or AI-P-Nikkor lenses.
Center-weighed: in Manual exposure mode or with AE Lock.
Exposure compensation: 3 EV range in 1/3 EV increments.
Autofocus detection system: TTL phase detection.
White Balance: Auto/Fine /Shade(fine weather)/Incandescent light/3 modes for Fluorescent light/Custom setting.
Shutter: Electronically controlled vertical-travel focal-plane shutter.
Shutter speed: 30 to 1/2000 sec.
Remote release: Mechanical remote terminal.
Self timer: 2 seconds (quick mode) or 10 seconds.
Built-in flash: Guide No.15 (ISO 100),effective for 28mm lens frame coverage.
TTL flash operations: Normal / slow-synchro / red-eye reduction / red-eye reduction with slow-synch.
Accessory shoe: Standard ISO-type with hot-shoe contact, ready-light contact, TTL flash contact, monitor contact; mount receptacle for Posi-Mount system provided.
Playback Function: One frame, thumbnails in four segments, thumbnails in nine segments, playback zoom, histogram indication, standard chart.
LCD monitor: 2-inch, low-temperature, poly-silicon TFT (approx. 200,000 pixels).
Video Output: NTSC (USA/Canada model) or PAL (European model).
Digital interface: USB.
Power source: 4 AA type batteries (Alkaline, Ni-MH or Ni-Cd) or AC power adapter for the digital image handling system. Also requires two CR123A batteries for controlling the camera system.
Dimensions: 5.8" (W) x 4.9" (H) x 3.1" (D)
Weight: Approx. 29oz (without batteries and lens).
---
Super CCD Information -
The following memo was provided by Fuji to its S1 Pro dealers. Although not necessarily "new" information, it might help clarify some of the controversy and confusion about some recent questions and issues regarding the Super CCD and image resolution:
(Memo to: FinePix S1 Pro Dealers)
"Attached to this e-mail is a ... document which you might find useful in explaining to your customers how and why we are able to produce higher resolution images with our new Cameras utilizing the Super CCD chip design... "
(Copy of document below)
Super CCD Technology Explained
The introduction of Fujifilm's patented Super CCD has created much controversy in the Digital Photography arena. Debates over resolution and interpolation can be heard on the trade show floor, web site chat rooms, and in periodicals. Eventually they make their way to you, the Fuji Dealer, who may then be forced to defend our position and clarify the misunderstandings. To assist you with the daily chore of explaining the Super CCD technology, we have summarized the major differences between this breakthrough technology and the conventional CCD.
Get the picture…. Get the Color!
One of the key characteristics of the Super CCD to remember is that it has larger photo sensors than a conventional CCD and therefore collects more color information, resulting in better color pictures! This added color data produces an image quality comparable to the level of silver halide photography. As a result, the print will become the only evidence you need to support the technology. Remember that CCD resolution and image file resolution is not a one to one relationship, this is true for conventional and Super CCD's. All digital cameras need to interpolate to mix a ratio of red, green and blue CCD sensors into a single combined image file pixel with red, green and blue color values.
Resolution and Interpolation
CCD resolution and image file resolution is not a one to one relationship. Therefore, the number of sensors on a CCD does not directly relate to the number of pixels in the final image file. This is true for both Super CCD and conventional CCD's. The change over from physical photo sensors on a CCD to the image file is due to interpolation. Therefore, all digital cameras interpolate. This is because each pixel of the resulting image file is usually made up of analog data from at least 2 greens, 1 red, and 1 blue photo sensors from the CCD. This mixing is what interpolation is all about.
Why do Super CCD cameras have so much more image file resolution?
A Super CCD camera produces image files with a greater number of pixels than conventional CCD cameras due to the new geometry of the Super CCD and Fujifilm's image processor that features PxGA Technology. The best way to simply show how the new geometry works in layman's terms is to demonstrate using the game of tic-tac-toe.
Conventional CCD's have surface architecture that the Super CCD does not need; therefore the photo sensor size can be increased without increasing the physical size of the CCD. In addition to this, the shape was changed to an octagonal shape to improve its micro lens efficiency and to accommodate a totally new sensor pattern. The new sensor pattern allows Fujifilm's image processor to make better use of horizontal and vertical data. Although very simplified, the diagrams below demonstrate the general benefits of the Super CCD system.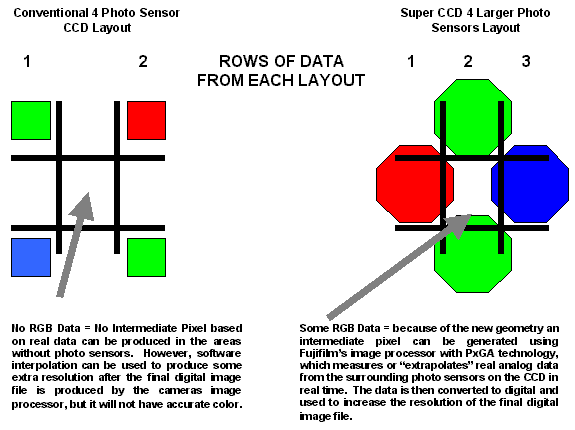 The 5 points to a high quality image capture
CCD resolution is only one of 5 quality measures of how well any digital camera can capture the scene. However, until the Super CCD was designed, the digital camera industry focused primarily on the "Mega Pixel" count as the most important quality measure. This was because most digital cameras lacked enough resolving power for the other 4 quality measures to effectively impact the final image quality. At the time, it also gave consumers a way to measure the cameras overall quality.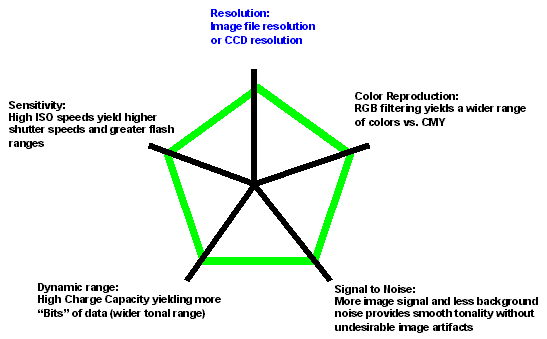 The real benefit of Super CCD!
Fujifilm has found a way to utilize fewer physical photo sensors on a CCD to reduce the detrimental imaging effects of trying to increase image file resolution by the reduction of the size of photo sensors. Fujifilm is unique in that it is a manufacturer that is capable of developing both a CCD and is a market leader in photographic manufacturing technology. Therefore, Fujifilm can now truly bring to digital photography the image quality of traditional film imaging. The results are better pictures with more realistic color through the blending of technology and photographic processing and printing know how.
(End of document)
---