Digital Photography
Opinions, Observations,
Articles, Insights, and Tutorials
Photoshop's History Brush
The often overlooked, versatile History Brush is easy to use. Use the History Brush to selectively restore color, detail, smoothness, saturation, or any other image attribute from an earlier point in a picture's history. Once you get the hang of it, you'll use it often and wonder how you got along without it
The most popular use of the history brush tool is to take a color picture, convert it to black & white, then brush the original color back into a particular feature. The artistic effect can be striking.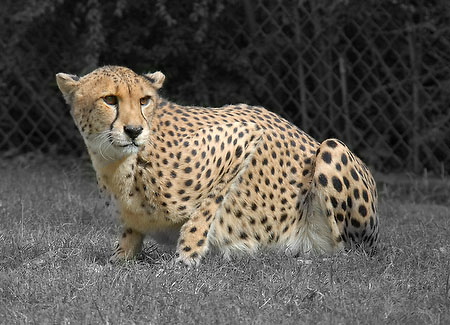 Below: The history brush made the beauty of the butterfly & wildflowers stand out from the background.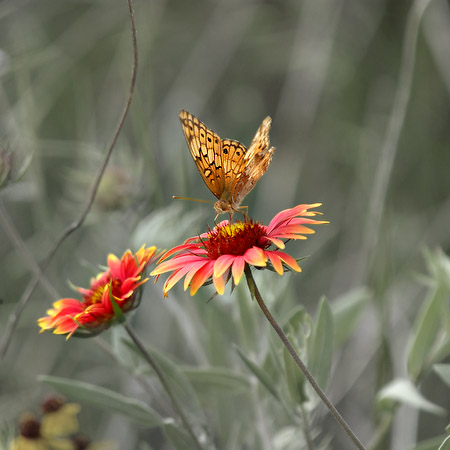 Nikon D1X photo, Sigma 50-500 lens.
Here's a short tutorial on how I used the history brush to modify the picture:

The original background foliage was gaudy and bright, overpowering the delicacy of the fragile butterfly feeding from the wildflowers.

First step:

From Photoshop's Main Menu Bar I chose Image - Adjust - Desaturate.

Next I chose the History Brush.

Then I clicked the box next to the first line in the History Palette (the original color).

All of the picture's attributes & qualities at this point will be the source for the history brush.

With brush sizes proportionate to the areas I was targeting, I painted back all the color into the butterfly and the two primary flowers with the History Brush at 100% opacity.

For speed, I used a large brush size across the broad areas of the subjects. Then I switched to a very small brush size to paint the color back into the edge areas.

To finish up, I changed the History Brush opacity to 25% for a watered-down look and stroked some of the original background color back into the scene with a very large brush size.
Below: Brush size & opacity settings are easy to change. I like to use the [ and ] keys for quick & easy brush sizing (see my Photoshop Tool tips page).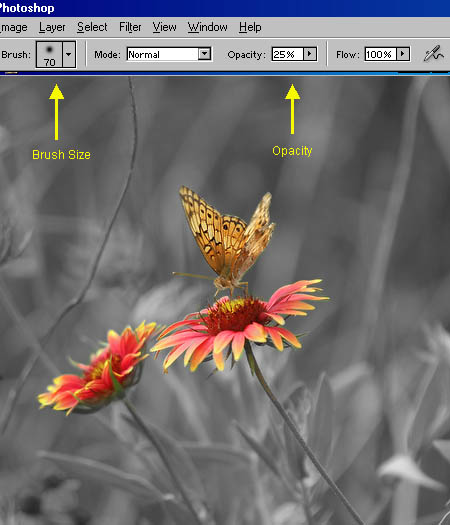 I use my mouse for large brush sizes and broad strokes. And I keep a Wacom Graphire3 4x5 Pen Tablet next to my mouse for precision drawing and fine brush work. It's easy to switch back & forth from mouse to pen, they're both "alive" at the same time. I like the 4x5 pen tablet because it uses the same size working area as my mouse, which makes the dimensional ergonomics of the two devices feel the same.