Digital Photography
Opinions, Observations,
Articles, Insights, and Tutorials
Nikon D100
Nikon's D100 Digital SLR is lightweight, easy to use, 6 Megapixels strong, and has a street price under $1,500. It's hard to imagine that four or five years ago it took more than $20 Grand to buy a Nikon-bodied 6 Megapixel Digital SLR.
The D100 is a favorite among Pros and Amateurs alike... Why?
Picture quality: The consensus among experienced users is that the D100 produces pictures equal to the "best of the best" pro digital cameras. In fact, many professional photographers actually prefer the output quality of the Nikon D100 over the Nikon D1x.
The battery: The small, lightweight rechargeable Lithium Ion battery keeps on going, going, going. Typical comments from D100 owners... "500+ shots and the battery meter still shows full..." "I took over a thousand pictures in two days and never recharged the battery..." "The camera sat idle in my camera bag for weeks, I took it out & shot all day long... and never ran low on power..."
The battery charger: Two or three hours for a full charge on a completely dead battery. No need to ever drain & refresh the battery. And the charger & power cord are small enough to put in one of the side pockets of a camera bag. That means that I'll never get stuck high & dry if I'm on a trip, because I can easily recharge the battery if I need to. I also carry a small 12v DC to 110v AC power inverter with me, which simply plugs into my truck's 12v accessory plug and easily powers the charger.
The weight. It's really lightweight. Which makes it a pleasure to carry around, even one-handed.
The size & shape: The grip fits my hand nicely (and securely). And it takes up less room in my camera bag, which means I can carry one more lens.
The built-in flash. It's right there for unexpected / unplanned flash situations. Sure, a dedicated external speedlight is always better, but for those quick candid flash shots or unexpected times when a little fill flash boost is needed, it's right there, just a flip of a button away. Yes, I also have & use a 'real' speedlight (a Nikon SB-80DX), but it's not very quick to mount if I see an unexpected photo moment that needs a little fill flash.
The placement of the LCD screen. It's dead center - which means no nose prints. On the other hand, it's right under your nose, so on a cold or very humid day, breathing through your nose fogs up the inside of the included snap-on clear LCD screen cover. The top corners of the clear LCD screen cover have enough of an air gap to allow this to happen. Solution? I took my LCD cover off and put it back in the box. (And I think the camera looks better without it.)
The wide ISO range. ISO 200-1600 in 1/3rd stop increments, plus Hi-1 (ISO 3200) and Hi-2 (ISO 6400).
Nikon's software: The included Nikon View software (free) does a good job of viewing & basic processing of Raw files. Also included is a trial edition of Nikon Capture software, considered to be the best raw file processing software in the industry. You can use Nikon Capture free for a 30 day trial, then it's around $100 to buy a permanent registration code if you decide to continue using it. I strongly suggest buying Nikon Capture.
---
Day to day shooting with the D100
I love the D100 for everyday shooting because it's ready to shoot as soon as I turn it on (virtually no startup lag), and using Raw format, I don't worry about having to make changes to my standard camera settings. When I see photo opportunities like the ones shown below, it's easy to pick up & take a quick shot that I know will turn out good. With Raw format, even if there's a problem with exposure, contrast, sharpness, white balance, or almost anything else, I can easily correct it after the fact on my computer with Nikon Capture software.
Donkey Roundup

ISO 200 snapshot, Raw format, Color Mode I (sRGB), programmed automatic exposure, Low Tone (Contrast), Matrix Metering, Nikon 20-35mm f2.8 D Wide Angle Zoom lens, Exposure Compensation set at +0.3.
"We'll see what happens when the dust settles ... "

Distant picture at right, closeup picture below. Shrouded in an fog like cloud of dust from a (so far) dry hole, a couple of Texas well drillers stand by as their equipment grinds its way down through the layers of dirt & rock in search of underground water. ISO 200 snapshot, Raw format, programmed automatic exposure, Exposure Compensation set at +0.3, Low Tone (Contrast), Matrix Metering, Nikon 20-35mm f2.8 D Wide Angle Zoom lens, Color Mode I (sRGB), built-in D-TTL popup flash used to add additional lighting to the shadowed driller's faces (fill flash).


Click to enlarge, 1024 x 680 pixels, 291 KB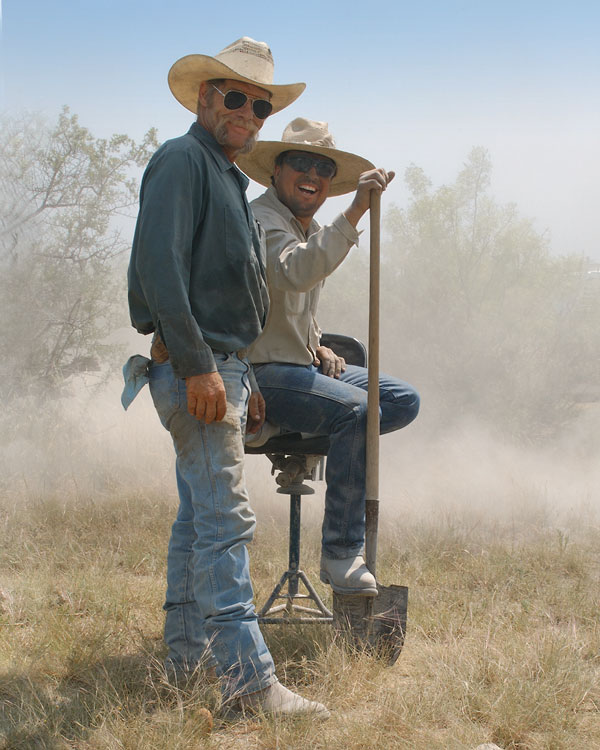 Click to enlarge, 1000 x 1250 pixels, 471 KB
Fresh from the Fish Farm

Somebody's having fun watching a tank full of of young, frisky channel catfish being stocked into our pond.

ISO 200 snapshot, Raw format, Color Mode I (sRGB).
---
How I set up my D100 for everyday use
Tone (Contrast) Low
Color sRGB Mode 1
Sharpening None
White Balance: Auto
ISO 200
3D Matrix Metering
Exposure Compensation + 0.33 (Otherwise the D100 will slightly underexpose 95% + of the time)
Focus Mode Single Area AF (Dynamic AF OFF, Dynamic AF with closest subject priority OFF)
Focus Area Center point
Focus screen gridline display always ON
Built-in AF assist light permanently OFF (via Custom Function Menu)
Programmed Automatic Exposure
Shooting Mode Single Frame
Flash mode Slow Sync
Image quality Uncompressed Raw ** (NEF) format. I switched to uncompressed Raw the first day I set up my camera. Uncompressed Raw writes to the memory card reasonably fast, produces few aggravating buffer stalls, and clears the camera's write-to-card indicator light quickly. (Not so with the camera's default compressed Raw format, which produces agonizingly slow write times.)

** Why Shoot Raw Format? Click here for an article on why I shoot strictly Raw.
Here's my typical D100 Raw processing workflow using Nikon Capture and Adobe Photoshop
In Nikon Capture or Capture NX
With in-camera sharpening set on None, set the Unsharp Mask Intensity at 65-70%, Halo Width at 5%, Threshold at 4 levels.
Turn Edge Noise Reduction "On", leave the Color Noise Reduction at 0.
With Tone Compensation set on Low, boost the contrast In the Color Balance Palette to +5.
In the Color Balance Palette, reduce the Red setting to -2.
Set the Vignette Control Intensity to +150. This balances out the lighting in the entire picture.
Adjust Exposure Compensation if necessary. *If you preset exposure compensation at +0.33 on the camera itself, you probably won't need to do this.
Adjust White Balance if necessary.
Right click on the picture and choose "Open with Photoshop". The image will be transferred to Adobe Photoshop as an 8 or 16 bit Tiff. (8 bit is preferred for most applications.)
In Adobe Photoshop
Do your final adjustments, retouching, or printing from Photoshop. If the picture is a "jewel", save it as a compressed LZW Tiff (lossless) file for future ease of use.
Two frequently asked questions
How do you set up a D100 to change from the default compressed to uncompressed NEF?
Press the Menu button
Go to the Shooting Menu
Right Arrow, scroll to Image Quality
Right Arrow, scroll to NEF (Raw)
Right Arrow, select RAW NEF (Raw) instead of Raw Comp. and hit the right arrow for 'ok'.
How do you preset White Balance for difficult lighting conditions?
Turn the camera on.
Turn the top dial to "WB"
Turn the thumb side dial until "PRE" shows on the top LCD screen.
Turn the index finger dial (on the front of the camera) and the top LCD screen letters will blink.
Hold a white piece of paper or cloth a couple of inches in front of the camera lens.
Press the AE/AF Lock button and press the shutter button.
* You must hold the AE/AF button down or the camera shutter won't fire.
"Good" will blink on the top LCD screen.
Reset the top dial back to your shooting mode (Programmed, Aperture, Shutter, etc.)
To undo Preset White Balance and return the camera back to regular White Balance choices, turn the top dial back to "WB" and turn the dial until your choice reappears on the screen. Then reset the top dial back to your preferred shooting mode.
---