Digital Photography
Opinions, Observations,
Articles, Insights, and Tutorials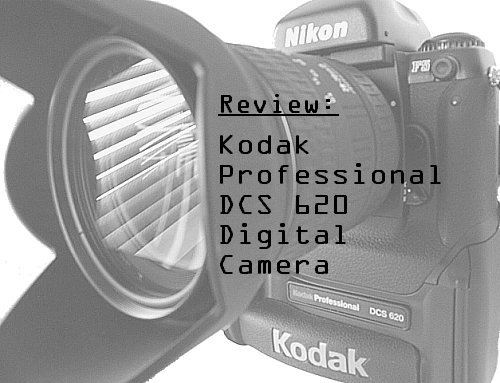 The DCS 620 and DCS 620x
As with all pro-class digital cameras, owning one is either a major business decision for an essential tool, or a well thought-out choice for an exciting and rewarding hobby. (Maybe you could use it for both?)
As a business decision, you'll share one of the preferred choices of professional photographers, photojournalists, industrial, manufacturing, and aerospace giants, as well as scientific, military, law enforcement, entertainment, promotional, and government organizations worldwide. The quality, durability, and reliability of the DCS 620 is well-known and highly respected.
As a personal camera, you'll be able to take photography to its extreme limits, and enjoy the quality, speed, and convenience of digital photo processing at its very finest. Professional quality sports, wildlife, portrait, family, and scenic photography are all a natural for the DCS 620. (And remember, it still costs a lot less than your neighbor's prized Harley Davidson or 60's Mustang, so you really don't need to feel "too guilty" about spending that much on a hobby, right?)
---
Overview -
Built on a Nikon F5 35mm film camera platform, the Kodak DCS 620 is an exceptionally well engineered piece of equipment... you can count on it. Good (or bad) pictures will come from the photographer in "you" - because the camera itself won't let you down.
The camera's output is consistent, predictable, and reliable. Left on "automatic", you can expect the same kinds of results you would get from the traditional "film" version Nikon F5 35mm camera in the same mode, while the advanced functions give the camera the flexibility to capture outstanding pictures in all kinds of conditions.
The sound recording feature of the DCS 620 gives the ability to annotate pictures with verbal notes, comments, or the surrounding sounds and noises of the moment.
And the huge, flexible image storage capabilities of the full-sized PCMCIA memory card slots give the DCS 620 a strong advantage over film, as well as competitive digitals with more restrictive memory storage formats.
---
Key Features -
1738X1152 Pixel ultra high quality CCD (2 Megapixel) gives a traditional 35mm film format aspect ratio of 2:3 (example - traditional 4"x6" prints). Produces rich, well-saturated images, delivers smooth, clear "enlargement sized" prints up to 8" x 10" or greater.


ISO sensitivity fully adjustable in 1/3 stop increments between 200 -1600.


Normal shutter speed range of 30 seconds to 1/8000 of a second.


Continuous shooting mode runs at 3.5 frames per second, up to 12 continuous frames before pausing to catch up on the internal memory buffer. Ideal for sports or action photography to capture "just the right moment".


Focal length multiplier of 1.6 extends the range of telephoto capability with minimal restrictions on close-up or wide angle work.


True image-sized viewfinder gives you a "what you see is what you get" picture. (WYSIWYG)


12 bit per channel output - gives "clean blue skies" and smooth, brilliant color definition.


Memory card formats - CF type I and II, PCMCIA type II and III, IBM Microdrive. Camera holds one type III card (currently up to one + gigabyte capacity), two full-sized type II cards, two CompactFlash (type I or II) or type II cards, or two IBM Microdrives.


3-D Color Matrix metering. Gives excellent probabilities of a "right" exposure. Nearly foolproof.


Latest version PhotoShop compatible "Host" software (free & included) for up to +/- 2.0 EV adjustments after you've already taken the picture. Roughly equivalent to "push" or "pull" processing, often used in chemical film processing. Eliminates the need to bracket shots in the camera for questionable exposure situations. (Saves time and memory card space.) Plus, the process is by far easier and more accurate than tedious manipulation in PhotoShop or other software if a picture is over or underexposed.


Easy quick-change single battery system. Dead batteries recharge in about an hour. And with the included car adapter for the quick charger, you're never far from recovery. (Handy at times.)


Long battery life with standard NiCd Kodak DCS 620 batteries - Personal experience has demonstrated that I can turn the camera on at the beginning of a 1 hour soccer game, leave it constantly on for the whole game, and take 150+ plus pictures (including spot reviews) on a single battery.

Extended life Premium Plus NiMH batteries are available as replacements for the original equipment NiCd battery that came with the camera. Kodak says they will offer two to three times the life of the original NiCd's.


Removable Lithium-Niobate anti-aliasing / infrared blocking filter.


Optional internal Infrared Reduction (only) filter for those who demand the highest degree of image sharpness.
Sample Photos -
Click on the thumbnail pictures below for full screen viewing

Notes - All original photos are 1728X1152 pixel Kodak proprietary TIFF format files, approximately 2 MB each. The sample photos have been resized to 2/3 of the original (= 1158X772 pixels) and converted to JPEG format for faster loading to your screen.

Strike!
ISO 800
297 KB


Feel the Speed
398 KB


BeerMan
ISO 800
174 KB


Huntington Beach Pier
343 KB


Shooting the Curl
286 KB


Czech Air Force Trainer
163 KB


Garden Raider
Night shot, ISO 200 (flash)
315 KB


Night Drags - Nitro Funny Car
ISO 1600
401 KB


Texas Longhorn
405 KB


Aerial Photo
293 KB


North Texas Sunrise
166 KB


Blinded by the Light
ISO 800, 243 KB
---
The pictures look great on the screen, but how do they look in print?
The best part - pictures from the DCS 620 printed on a top quality thermal dye sublimation printer are virtually indistinguishable from top quality 35mm film camera "store processed" prints... with all of the look, the feel, the depth, and the durability.
I say the "best part", because it seems like that's the ultimate benchmark for a digital camera. Show off your digital prints to anyone, and they'll compare them (at least in their minds, if not verbally) to conventional prints. Show someone a picture on your computer screen, and you're likely to hear "... that's very nice, but how does it look when you print it?"
And when you pay this much for a camera, it's really nice to hear "WOW!!" when people look at your prints. And to know that even when technology moves upward and prices fall (inevitably), you've still got equipment that will put you clearly in the "front row".
---
The Removable Anti-Aliasing Filter -
There is a significant condition that often occurs when using an anti-aliasing filter in the Kodak DCS cameras. Many users experience some loss of image sharpness, especially in low contrast conditions.
Even the best internal or external sharpening techniques or onboard camera systems will not completely restore all of the lost sharpness, although most is recoverable using PhotoShop (or equivalent) software sharpening techniques. But in some cases, acceptable sharpness is not restorable no matter what you try.
Remove the anti-aliasing filter ?

If you remove the internal anti-aliasing / infrared reduction filter, your pictures will likely be noticeably sharper, but you'll need a hot-mirror filter for pesky infrared rays that can affect image tones & colors, and Quantum Mechanic software to kill the slight artifacting and blue channel noise in the pictures. (Quantum Mechanic is a breeze to use, and in my opinion should be used to some degree on most "keeper" pictures anyway, even when using the anti-aliasing filter.)
Unfortunately, traditional lens-mounted hot-mirror filters are a bit of a "pain". This is because you'll need a different hot-mirror filter for every different size lens threads you have (they're rather expensive - averaging around $100 or more for the bigger sizes), they're prone to cause lens flare (big, shiny glass surface), and it's easy to accidentally get dust trapped in between the filter and the actual surface of the lens.
An optional internal Infrared Reduction filter is available
Here's why the Kodak "removable" factor is so great ... An internal hot mirror (infrared reduction) filter kit is now available for the Kodak DCS 520/620/560/660 and Canon D2000 Pro cameras. Designed as an option to take the place of the current anti-aliasing / infrared reduction combination "low pass" filter. Some users (like myself)) will jump at this option, while some will stick with the current setup.
Part Numbers - DCS 520 & 560 (and the Canon D2000) take a catalog number 8407009, the DCS 620 & 660 take a catalog number 1185180. The kit will include the new filter, a special screwdriver for removal / reinstallation, new screws, and a case to keep the unused filter in. MSRP ~ $115.
Here it is -
Included in the package -
The internal IR filter.
(Like the original anti-aliasing filter, the glass is very thin. "Be careful - it'll break easily".)

Mounting screws in a plastic bag. (Lots of extra screws included.)

And a nice screwdriver.
The perfect size for the tiny Phillips screws.

Removing your "old" filter -
A common small magnetic screwdriver tip lifts the screws out of the camera quite nicely once you have backed them out. (That way you won't accidentally drop them.)

With the screws out, push lightly down in the upper left corner of the filter with the point of a small screwdriver (at the spot shown by the yellow arrow) - the old filter will tilt up on the lower right corner and can be easily picked up with your thumb & index finger.

New filter installed -
The new filter sets in place quite easily with your thumb & index finger. Then, use the tip of your screwdriver (gently) to position it within the tabs.

As with removal, use a magnetic screwdriver tip to place the new screws into the mounting holes, then slide the magnetic tip to the side to release the screws from the draw of the magnet. The screws will then seat & tighten easily. As with the screw removal, the use of the magnet will prevent you from dropping the screws inside the camera.
Note: Just as with an external hot-mirror filter, using the new "strictly infrared reduction" internal filter will necessitate Quantum Mechanic software to clean up the slight aliasing and artifacting, but everyone who has a pro class digital should have this software anyway. (In fact, it's virtually a "must have" for getting the best out of your pictures no matter what kind of digital camera you have.)
---
Need to shoot at faster shutter speeds or in low available lighting conditions?
Consider the new DCS 620x digital camera, designed to push the boundaries of available-light shooting.
This new version of the DCS 620 digital camera performs at up to ISO 6400 and delivers improved image quality with its innovative high performance 2-megapixel CCD, utilizing a Cyan-Magenta-Yellow (CMY) Bayer pattern color filter array.

Link to the Lonestardigital.com DCS 620x Mini-Review

(Includes sample pictures.)